Athletes who have
had #Enough!
of Cheer Extreme - Maryland | Shade
Technique Shorts from Spirit Technique LLC
Article reprint with permission from
Pablo De La Hoya/Youth Radio
Series Q&A Moments with cheer and dance athletes making it work!
Get your technique correct with these series short clip from industry expert Shanna Kelly
I Am A Cheerleader, And Here's Why I Take A Knee
Listen as a James Logan High School cheerleader from Union City, California says #Enough!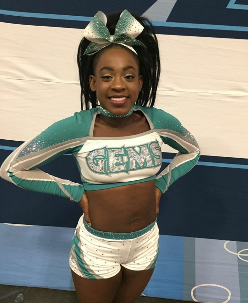 For the complete clip and more technique tips and skill advice from Coach Kelly visit www.SpiritTechnique.net.
Series Q&A Moments with cheer and dance athletes making it work!
HOLLA'! Cheer and Dance Magazine subscriber Azza Lamya Shabazz-Henry is an all around dedicated follower of #HOLLA'! She is so dedicated, that when the editor was once delayed with the daily HOLLA'!s due to travel, she sent a direct message inquiring if everything was okay! She is known on social media to be genuine with her support for every athlete who
posts. There is not a day that goes by where Azza is not posting to offer encouragement to others or sharing her progress in the sport.
A member of Gem Cheer Stars ICE XSS5 based out of Randolph, NJ., Azza has all- star roots with the wonderful Shahronda Rison of the Premier All Stars of NJ fame. Azza is also a member of the power tumblers SHINE Tumblers of Orange, NJ as well as the recent winner of the Chassé Tumbling contest.
Azza, is now preparing for another D2 Summit championship win. With future goals to open a state of the art power tumbling /cheer gym in Newark, NJ, after obtaining her Master's degree, she continues to amazingly balance her academics, volunteer duties and commitment to cheer and tumbling.
To know Azza is just to let her speak for herself. "Be kind to everyone. Be a leader and work hard to achieve your goals. Encourage others and always have a great spirit with passion for the sport you love and never ever let anyone tell you - You can't."
Join Azza and SUBSCRIBE today!
of Eastern Senior High School Lady Gems
Join Renee and SUBSCRIBE today!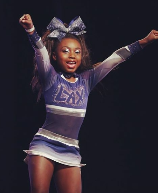 Series Q&A Moments with cheer and dance athletes making it work!
Graduating senior cheer athlete Jessica Carmon has a great YouTube series that takes a honest look at HBCU cheerleading at Xavier University.
For more images from season ending events, SUBSCRIBE today
and get the 2018 Summer issue right at your door!
But of all the competitions my favorite was the Aloha Championship in Hawaii. It was amazing!! I even got to fill in for our sister cheer team the Beverly Hills Tigers.


Out of the four seasons I've been cheering with LAX all Stars, this season was actually the best. Not only did I make the Junior Level 2 team, I was one of the main flyers, and my team finally got our own gym!! This season I was able to go from having just a back handspring to having a standing double back handspring, back handspring tuck, standing tuck, aerial, and
punch front. I was able to go to the gym and work with my coaches every day. Even though my team and I work very hard, sometimes we still make mistakes. At JAMZ Nationals in Las Vegas we slipped up on Our Day 2 performance but we still got 2nd place. The Palm Springs Duel in the Desert was probably the most challenging. We are up against so many teams and the arena is so big that I got overwhelmed.
I'm so happy we had more wins than losses. To end our season, all of our teams received a bid to Summit. LAX All Stars have never been to Summit and neither have I. I cannot wait to share this experience on the big stage.