Creating unique jewelry designs and intricate pieces is more than our passion. At
HOLLA'! Cheer and Dance Magazine

, we live for turning ideas into strikingly gorgeous jewelry. Nothing is more satisfying to us than creating lasting treasures for people.
Every studio and designer has a signature style, and ours is distinct yet recognizable. Starting with simple sketches, our designers create truly amazing pieces and unique sets. Whether from sterling silver, copper, or with precious stones, our jewelry designs are as eye-catching as you will find.
6 years of celebrating YOU!
#HOLLALuvandHugs to Tristyn, Malani and Ke'Zari

! Check

out these little darling athletes by clicking HERE to see their page.
Justice Michelle Johnson of Timberland High School brings in the April season showdowns as our HOLLA'! Star.
Click HERE to view her portfolio card and learn more about this month's star!
SPRING 2019 NOW AVAILABLE
Meet Our April 2019
Lil HOLLA'!s
Send letter of interest and résumé to careers@HOLLACheerDanceMagazine.com.
NO TELEPHONE CALLS PLEASE.
Follow us on social media for our daily HOLLA'!s and more. Be sure to tag us in your posts so we can make sure you are one of the stars of the celebration!
Dance Event Producer Still Shaken after Gun Pulled during Dance Competition
USASF Cheer & Dance Worlds
Questions email cacoach@cacheerndance.com
Follow us on social media to see where our crew will be to celebrate YOU!
When Taesha Pate, the founder of Violet Flames Majorettes dance program had planned her "When the Smoke Clears," Dance competition, she never imagined the chaos that erupted. Falan Brown, 36, of High Point, NC is accused of brandishing a gun during a fight after the announcement of the grand champions of the event!
*
Click the image above to be directed to the article and video.
HBCU Cheer Coaches forced to resign after failing to report rape claim.
INTERN POSITIONS AVAILABLE
Sign Up for the FREE monthly
the cover to peek inside!
News and Updates (March/April 2019)
To submit cheer and dance news, email editor@HOLLACheerDanceMagazine.com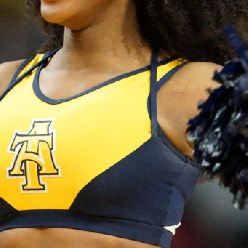 Cheer athlete Raina Gee called for the removal of the NCA&T cheer staff due to what she claimed was a failure to follow proper Title IX protocol in reporting her alleged sexual assault.
*
Click the image above to be directed to the complete article.
Image Credit: Randy Singleton